This week sucked. Last night I wrote a blog and had it ready to get but that was just me calling for every NFL officials head, asking for the assassination of Jerry Jones, and repeatedly saying I wanted to die. This blog will not be that. I still want all of that. To the games.
Tom Brady shredded the Dolphins in the first half to the tune of 27 points. They only mustered up 6 in the second half and the Dolphins continued their success against the Patriots while playing in Miami. Who cares about any of that this was awesome.
Also my only thought although I thought would end up being meaningless is why have Gronk in the game? I don't think Tannehill is going to throw it 75 yards in the air. It was of course going to be a lateral play but regardless of who was in the game Miami needed a miracle. Only explanation
Nice.
The Panthers lost their 5th straight and Baker Mayfield is awesome.
Just once in my life I would like to wake up feeling "Dangerous" instead of tired and hung over from too much to eat the day before. It isn't even the booze that gets me at this point it is the food. But hold the phone Baker Mayfield has a cannon.
Why not let's get it over with. The Eagles lost but not without controversy. Did Carson Wentz stink for the first two and a half quarters? Yes he did. Did the defense hold on strictly because Dak Prescott stinks? You bet. But, was this a clear fumble recovery.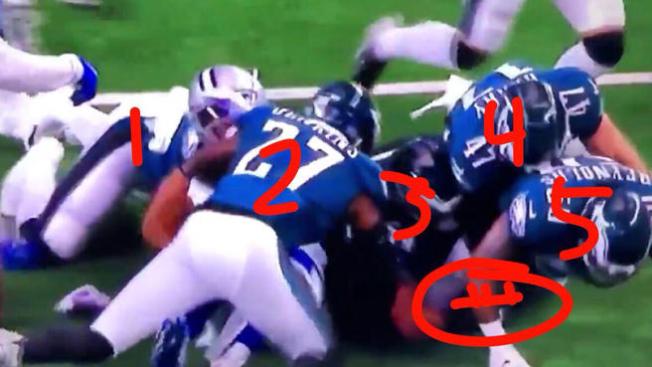 Fuck, this could've been the game. I honestly do not understand how this one went the other way. I think I learned what a catch in the NFL is but now I have no idea what a clear recovery is at this point. The season is over I am sad. Thinking about learning to play the ukulele, but I'll probably just pray that the Phillies sign Machado, Harper, and trade for Trout. Please God give me one. I will give my first-born for 2 of those 3.
The night game with a score to 15-6 should have been brutal to watch, but the Bears defense is sooo fucking good it made it exciting (I had the under). The only exceptional touchdown allowed in this game was this one exactly.
The Bears offense is the least exciting most exciting offense going.
Oh the Eagles aren't alone in being a shitty PA team. Pittsburg? Wtf. Love it